One has to be careful with inviting us to events, we may end up saying yes and book a trip to come to your wedding, even if it is in Sardinia. Not only that but we will end up pretending we are your cousins and take family portrait photos. If they want to make a sequel to Wedding Crashers we are available to be cast in the cousin roles.
The trip to Sardinia started with a classic sequence of dragging suitcases through London public transport, a low cost RyanAir flight, a check-in where I had to shift a kilogram from one bag to another to avoid extra pay, a fire alarm to push us out of the bar where we were spending the 3 hour flight delay, a panic session when Husband Chris realized that he did not get his international driving permit, and an attempt to contact the car rental company to check if they are still open when we arrive after 10 pm. There was no applause when the flight landed, but all was streamlined and within an hour we were at our farmhouse dragging suitcases again but this time to our room.
Alghero
We chose a farmhouse, Agriturismo Berlinga to stay for the first three days of the trip. It was near Alghero and by the time we arrived on the first night we were asking for anything to eat, a sandwich or something and  in turn they fed us a three course meal. It was a very decent location, well priced for the home cooked meal you get, the type of farm where they have their own lambs and they use their own produce. It wasn't as romantic as the Masseria Serragambetta in Puglia but still we enjoyed our stay. Our room was in front of this lovely hill and as we were dragging our bags to the room on the first night, Husband appreciated the personal touch, a 4x ashtray in front of our room. Australian traditions travel far don't they.
We made a visit to the Grotte di Nettuno and yes we took the stairs, although on the verge of dehydration, we enjoyed it all from the spectacular forms to the mesmerizing colour of the sea around. After the hot climb up the stairs, we went for a dip and later on spent the afternoon in town. It seems to be a great location for tourists with lots of places to enjoy a meal by the sea and plenty of street life. Around the city center I managed to take stock of probably a million red coral pieces of jewelry. Unfortunately the multitude had a negative effect and couldn't appreciate any of it after a while.
Bosa
Poor Husband Chris got sick as soon as we landed but sniffles and all he was amazing and drove us on the first day through a spectacular coastal trip from Alghero to Bosa. Gorgeous, breathtaking and any other travel brochure compliments you can think of can apply to this scenery. Environmentalists say that the Mediterranean has some of its cleanest patches of water here. On the way there are spots where you can stop and off the side of the road you will find little secluded beaches and even the bigger beach at Bosa Marina is well worth a dip. We were here a bit off season when the water was a bit chilly and Italians from all over the country can get some peace of mind while they enjoy their porcetto without the pesky tourists with their nosy cameras, yes, Husband Chris I am talking about you.
The town has lovely coloured houses and and a castle towering over, making sure everyone is well protected and don't be shy to try the figs from the trees around, they are delicious.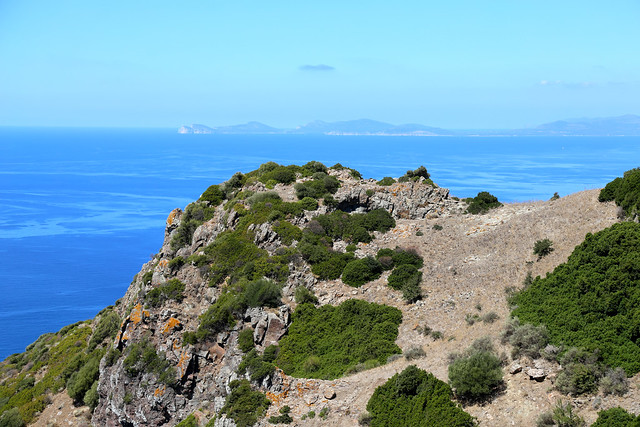 Sorso
This is a very cute little town and it is here at the Pallazzo Baronale were our dear friends joined forces to become a super couple of awesomeness. The celebration was sweet with lots of love cheering them on, followed by a choir and a crowd awaiting them outside wearing masks of the happy couple. We were whisked away in a mini bus for a 20 min drive of excitement and horn blowing to let the world know we are celebrating. The wedding reception and party was idyllic to say the least, at Kent'Annos a restaurant and winery in a gorgeous scenery, where we could snap photos of the couple as silhouettes against the sunset over the vineyard. Please make sure you read these lines with violins in the background and if you have some delicious food dripping over the keyboard, then you may be recreating some of the atmosphere of the event. We wore our cousin roles impeccably and we almost convinced the groom's family to invite us over for family Christmas lunch. A perfect wedding ending with Husband Chris in tears of laughter before we made a run to the bus and even on the last steps before departing, we did a group dance on Jump, Jump with our dear aunt while waving good bye to the happy couple. Let these memories keep us warm over the winter, during our hibernation months.
Castelsardo
Some lovely views walking around the top of this town. We also had a mini tour of a chapel where you can find beautiful works of Maestro di Castelsardo, whose identity is still unclear. From the end 15th century to the beginning of 16th, the pieces are typical Renaissance all with influences of linear perspective. I can whip terms like that in a sentence after months of listening to our great teachers at Art History from Khan Academy.
Stintino
La Pelosa beach had the most outstanding water I have ever seen. Of course this statement caused Husband Chris to puff his feathers as a proud Australian. To lil ol' Romanian girl, although exposed to the beauty of the Black Sea, this still was the most clear water I have ever bathed in.
Sassari
We did not have a chance to spend a lot of time here except a walk around the centre, which of course had some fun pieces of architecture to enjoy.
Food Craving
The highlight is without a doubt the amazing wedding menu at at Kent'Annos in Sennori. The porcetto arrosto was probably the best I have ever had.
A second celebration with the lovely couple was at L'Agnata di De Andrè. After spending most of our time near the coast, this was a beautiful in-land drive, between mountains to the once summer home of the Italian singer Fabrizio De André. A beautiful meal in a truly amazing setting. I have never heard of the singer before but after listening a bit and reading about him, he was a legend with a very rich life.
Memories Hunting
I was ready to spend money on lots of handmade carpets and rugs and handicrafts. As it turns out that was not as easy as one thinks. We tried to find ISOLA locations, the organisation that protects artisans and their work but the ones we found in our little guide were not really there. So instead we found a lovely carpet in Bosa. In Castelsardo we entered the house of little old lady who was selling straw plates she made and we snatched one while she was establishing our income based on our professions.
I shall end this post thanking the lovely couple for giving us the opportunity to discover little parts of Sardinia, to experience a beautiful celebration of love and help define our role in the family. Congratulations!!